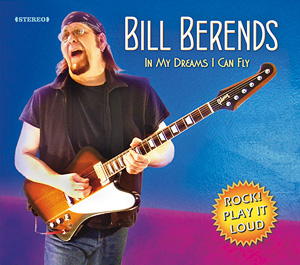 New solo album "In My Dreams I Can Fly"

Now on sale: CD Baby - Amazon - iTunes - purchase direct (preferred).


"this harks back to 60ís and 70ís in so much that we get accessible musical themes, melodies - make that oodles of melodies - and a feel good vibe throughout. Nothing pretentious, nothing to make your brain hurt trying to figure it out (although some licks will still leave your jaw on the floor), just 12 tracks that will give you as much fun listening to them as you suspect Berends had recording them. Overall this is a very enjoyable album that rewards on first listen and reveals new textures on each subsequent spin. Itís not reinventing the wheel but its well written, well played and well produced and as such is a very enjoyable release and comes as recommended listening for any classic rock fan." -

virtuosityone.com

"a really nice job" - Mike Varney "splendid" - loudguitars.com



Bill Berends - guitarist, composer, producer, engineer, singer, artist, and
generally cool guy. Thanks for visiting. Explore the menus to learn more.

Bookmark this page and stop back often to see what's up. Thanks.


World population:

xxxx




Updates
---
Dec. 12, 2014 [ home ]

In My Dreams I Can Fly now streaming in full on CDBaby. Price reduced for the holidays. Give the gift that keep on giving!


---
Dec. 11, 2014 [ home ]



FNP Indeprog Award 2014 - Bill Berends interview & award show: streaming archive (FNP #173)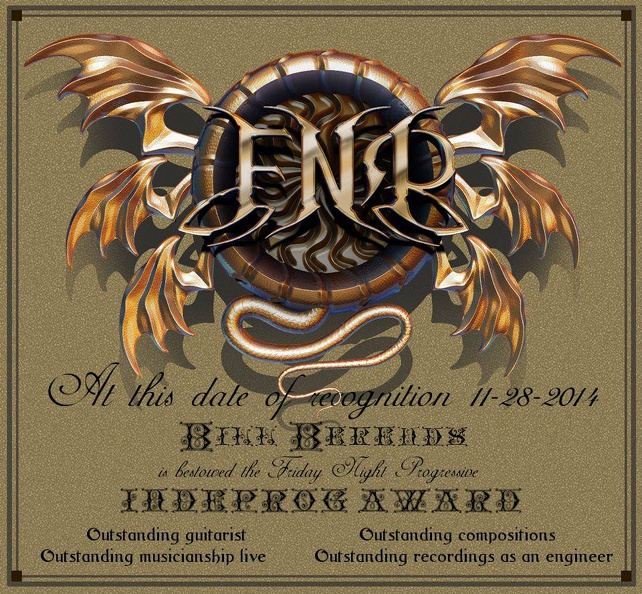 ---
Nov. 26, 2014 [ home ]

On Friday Nov. 28th Friday Night Progressive honors Mastermind guitarist Bill Berends with the "Indeprog Award" for outstanding artistry in recognition of his musical career and commemorating the 20th Anniversary of MASTERMIND III: Tragic Symphony. Featuring a candid interview with Bill, commentary, music & chat. Tune in live at 9pm EST (NYC time). Thanks to FNP for their ongoing interest and support!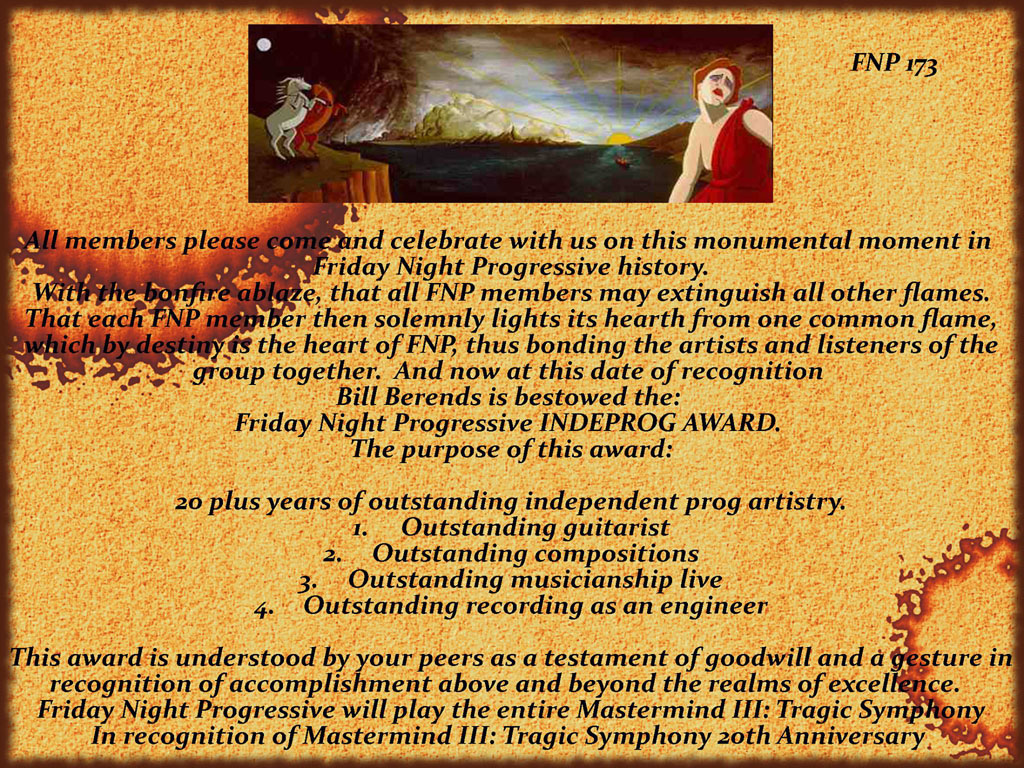 Listen live here Fri. Nov. 28, 2014 @ 9pm EST (NYC time) | Chat Room | Facebook FNP group
---
Oct. 8, 2014 [ home ]

The days are noticeably shorter, the nights are colder. Winter is coming. Nooooooo!!! Summer was WAY too short!! However, now it is cooler and darker I am again working diligently on the music I began last Spring. Summer was mostly household maintenance, roof repair, plumbing problems, auto repairs, and other real-life crap demanding attention. Tedious and tiring, but better in summer than in winter. This is not to say I didn't make any musical progress at all, in fact quite the opposite. After living with my new compositions for a while I re-worked some things to get closer to my vision. It's taking shape. When a touch of writer's block hit (it happens) I did some radical remixing of older material, plus some covers as well, just to keep the juices flowing. Much time was devoted to learning new music software and how it interfaces with hardware. So, although I don't have anything to show for it yet, I covered a lot of ground and will have some new music out there before the end of the year, that's a promise. I do miss playing out live, but that will take time to get together. I feel like I am starting over from scratch in some ways which is both exciting and frustrating at the same time. I want it to happen NOW!

Meanwhile, I've booked myself on NASA's Orion mission to Mars! The first test flight is December 4th, 2014! Well, my name is going anyway. Getting ready to earn myself 60,000 space flyer miles! Sounds like an adventure. Seriously tho', come back in a few weeks and see how things are shaping up or sign up for the mailing list to get the latest music news directly in your inbox. Thanks for checking in!




---
May 19, 2014 [ home ]


Spring has sprung, finally, sort of - still pretty darn chilly - but at least the damn winter is over. The last live show I played was Thanksgiving 2013 by which time I knew that I really needed a break from the cover band gigs. So, although I haven't been out performing, I have been busy all winter (and now spring) composing new music and have to say it feels really good. I've written a lot of new material I am quite pleased with and have been fleshing it out in the computer as you can see in the photo there, behind me.

Though I do miss being out and playing for people, I don't miss the bar scene at all. I never set out in life to be a cover musician and I don't want to end up as just another old guy playing old music for old people. I aspire to much more than that and still believe I have it in me. Though it was enjoyable to revisit my roots as a guitarist, and I think it was good for me, it went on for far too long and just got to be soul crushing. Time to retreat, rethink, reinvent.

What this means is The Berends Brothers Band as it was, is no more. Can't do that anymore. If we reappear under that moniker again it will be something quite different. Also, as much as I got a kick out of playing Mahavishnu Orchestra stuff with Calvin Weston's Treasures of the Spirit band, I won't be doing that anymore either. It was fun for a while, but it's time to move on. Will this mean the return of Mastermind? Doubtful, but anything is possible.

I'd like to thank everyone that supports my work with their purchase of In My Dreams I Can Fly. I feel like that was the culmination of my pure guitar explorations and now I am delving back into synthesizers and other electronic weirdness. So stay tuned, join the mailing list to be first to know when I release something new. Sometime this year for sure. I'm not sure what it will be called or how I will release it. Perhaps by putting it on Soundcloud sort of anonymously and see what happens. If reactions are positive I may do another kickstarter. Not sure yet. Anyway... I just wanted to say I'm not dead yet! I haven't retired from making music and feel genuinely excited and enthusiastic about what I'm doing for the first time in a quite a long time. And now for something completely different. :)


---
March 14, 2014 [ home ]

A recent in-depth, guitar-centric interview talking about IMDICF, Kickstarter, and more on retrorockguitar.com



---
Feb. 27, 2014 [ home ]

After a week in California for NAMM, coming back to New Jersey seemed very counterintuitive. WTF am I doing here? Worst February in recent memory. Seems appropriate to feature The Longest Winter from the IMDICF album... I vow this will be my last winter in NJ.

One bright spot though - a nice new review of In My Dreams I Can Fly up on the Exposť Music Newsletter site. Check it out.





---
Jan. 9th, 2014 [ home ]

2014 ~ I hope everyone's new year is off to a good start!

A nice new review of In My Dreams I Can Fly is now up on Music Street Journal... check it out! And a new video for Paper Planes....





In other news: The Berends Brothers Band is taking a break from live performance for a while to concentrate on new original music. If cabin fever or frost bite doesn't get me first, I expect to be back out live in 2014 in one form or another. Some new recorded music should come before that.. check back often to see what's up. Thanks for visiting!


---
Dec. 24, 2013 [ home ]

Merry Christmas and Happy Holidays to all! Wishing you peace, love, and joy this holiday season. See you in 2014!!


---
October 21, 2013 [ home ]

The Berends Brothers Band is playing a cool theater show at The Rotunda at U. of Penn in Philadelphia, this Thursday, Oct. 24th, 2013. Check out the event listing, download the press release PDF, and visit the schedule page for map links and more info. All ages, FREE admission, 8pm-10pm. It's been a while since we've played on a bigger stage, so I am looking forward to it... should be a great show!






Also, for the prog rock fans, visit the Mastermind blog and check out the new Nimbit Webstore. The Angels of the Apocalypse album is now up on youtube - in its entirety - for everyone's enjoyment. It was a good album when it came out, it's still a good album, so go check it out if you haven't already, or listen anywhere, anytime on youtube. This album hasn't been officially available online for some time now, so if you enjoy it, now you can purchase a digital copy if you like. That would be way cool. Thanks!

Now the weather is getting colder it's time to get back in the studio cave and record some new music. Summer was far too short to suit me! But this most likely means fewer lives shows - one or two more before the end of the year (unless something else comes along which is possible, we'll see) - so come on out now before it's freezing cold and have some fun, say hello. I hope to see you there!


---
September 11, 2013 [ home ]

9/11/01... I will never forget. I recently uploaded a few tracks off the Mastermind 'Insomnia' album to the Mastermind youtube channel (courtesy of Lion Music) for everyone to enjoy and share. While I was thinking about it I wrote an entry for the Mastermind blog relating how the events of that fateful day twelve years ago influenced the music. Some things Mastermind fans may not be aware of, shedding some light on the darker moments on the album and the artwork. It hardly seems like twelve years have gone by [ more ]...


---
Aug 18, 2013 [ home ]

Upcoming gigs [ click here for info ]


---
June 16, 2013 [ home ]

A new guitarist oriented interview with yours truly in the QRD ezine issue #63. Check it out here.


---
June 5, 2013 [ home ]

Music video for the title track off In My Dreams I Can Fly. Just goofing around for the camera on my part, but some good video footage of drummer Jason Gianni playing live in the studio. Please share using this link: http://youtu.be/GtVok4JG4CY





This is the actual drum track on the album as it was being recorded and me goffing around with the Firebird V that I played on this track (and several others). Please visit youtube to comment and give us some thumbs up action :) Thanks!


---
April 22, 2013 [ home ]

In My Dreams I Can Fly charted in the April issue of JAZZWISE magazine's radio charts (UK). Sweet!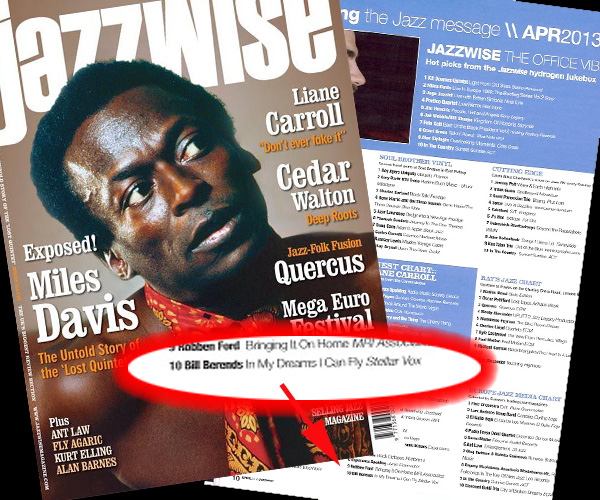 (I love that Miles Davis is on the cover. Me & Miles... how cool is that? Very!! ;))


---
April 2nd, 2013 [ home ]

Another nice album review at the aptly named loudguitars.com web site! "splendid" Rating: 4/5


---
March 18, 2013 [ home ]

New blog entry. I hope to be a bit more diligent about it in the future! Also, Dr. Music's review of the week has been archived.


---
March 12th, 2013 [ home ]

R.I.P. Alvin Lee, December 12, 1944 - March 06, 2013
Fellow Sagittarius and one of my favorite guitarists of all time. Thank you for all the great music and inspiration.


---
March 6th, 2013 [ home ]

In My Dreams I Can Fly is the featured review of the week on Dr. Music's Weekly Checkup (Chicago, USA)... check it out!

"Anyone that has ever heard Berends play guitar doesnít need to hear me rave on and on about how talented this guy is. Letís just say it once right now, this guy is as good as they get." -- Dr. Music

Check out some other great reviews on Dangerdog Music and Virtuosity One. Get your copy today from CD Baby


---
Feb. 22, 2013 [ home ]

I've put up a page on the Play Crossroads guitar festival contest with a track from my new CD In My Dreams I Can Fly and a previously unreleased Mastermind track from the Lion Music Tsunami benefit. Go check it out. It's basically just a popularity contest, but I figure it's some exposure for the new album. Thanks! (Update: the contest is over but you can still play the exclusive content. Listen here.)


---
Feb. 3rd, 2013 [ home ]

How cool is this? Very nice!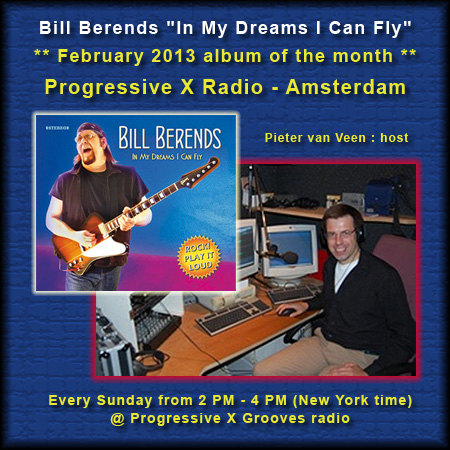 Progressive X Grooves radio, Amsterdam. Press Release:

Bill Berends - In My Dreams I Can Fly - is **album of the month February 2013** at Prog-X-Radio!
Listen / webcam every sunday from 2PM-4PM (NY time) @ Progressive X Grooves radio: here
Chatroom every Sunday 2PM-4PM (NY time) @ Progressive X Grooves radio: here
The radio show is in Amsterdam (Europe) and in Dutch language: THE MUSIC RULES!

Get your copy of In My Dreams I Can Fly here


---
Jan. 2nd, 2013 [ home ]

Happy New Year!! I have a new album out and gigs coming... 2013 looks good so far!! Best wishes to you all!


---
Previous news entries...

All content ©2009-2014 Bill Berends unless otherwise noted.



.