Previous Updates [2014-2019]
---
December 3rd, 2019 [ home ]

More video of my MASTERMIND 2019 band up on YouTube now after sorting through 70GB of incoming media. Subscribe to be the first to see more. After the holidays I look forward to more shows in Brazil... and beyond? We shall see. MASTERMIND 2020 bring it on!



Bill Berends: guitar/vox | Gabriel Costa: bass/vox | Carlos Camasi: drums


---
Nov. 12, 2019 [ home ]
Veni, Vidi, Vici
Totem Prog Fest Brazil 2019: Mission accomplished. The band was good. I showed Brazil how an American does it and now that we're up and rolling I am ready to do it again. We got loads of media which I am sorting and editing, but I am looking towards the future. We proved we could do it (that I can still do it) and this is only the first show of (hopefully) many more to come. Below is some fan video shot on a Motorola phone. There is higher quality stuff coming. Subscribe on YouTube for new video posts. I have to say... it felt good.





Totem Prog Festival, São Paulo, Brasil
Teatro UMC, November 3rd, 2019
Bill Berends: guitar/vox | Gabriel Costa: bass/vox | Carlos Camasi: drums


---
Oct. 30, 2019 [ home ]
MASTERMIND 2019 - A Short Film
---
Oct. 24, 2019 [ home ]
November 3rd, 2019 - São Paulo, Brasil. Teatro UMC


Visit Bill Berends Music on Facebook, see NOTES for details. (English & Português).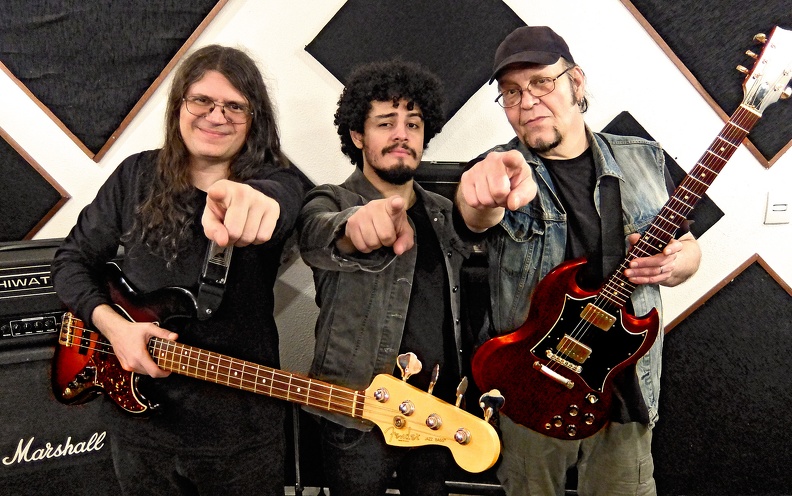 Mastermind 2019 World Tour, One Night Only!! Don't miss it!
English: Revisiting the music of American progressive rock band MASTERMIND with founding member; guitarist, vocalist, and composer Bill Berends. 2019 marks the 30th Anniversary of MASTERMIND "Volume One" on CD. Now a resident of Brazil, Bill Berends has put together a lean, raw power trio of capable Brazilian musicians to bring this music back to life. MASTERMIND 2019 will appear in concert at the Totem Prog Festival at Teatro UMC, Sao Paulo, Brazil, on November 3rd, 2019 performing select cuts from the early Mastermind trio catalog.

Português: Este projeto vem revisitar a música da banda americana de rock progressivo MASTERMIND com seu membro fundador, guitarrista, vocalista e compositor, Bill Berends. 2019 marca o 30º aniversário do álbum MASTERMIND "Volume One" em CD. Agora residindo no Brasil, Bill Berends montou um power trio afiado com músicos brasileiros para trazer essa música de volta à vida. MASTERMIND 2019 vai se apresentar no III Festival Totem Prog no Teatro da UMC, em São Paulo, Brasil, em 3 de novembro de 2019, executando canções selecionadas do catálogo dos primeiros trabalhos do Mastermind como um trio.


---
Oct. 3rd, 2019 [ home ]
Something brewing south of the Equator... details soon.
mastermindband.com/blog/
---
Sept. 14, 2019 [ home ]

Maintaining a web site these days is a pain, but I will have some hard NEWS in October so be sure to check back next month. Until then, join me on Facebook and/or Instagram.


---
March 20, 2019 [ home ]

Greetings from the southern hemisphere!

Sorry I haven't been keeping up here, but real life has kept me busy. A quick update to say I'm alive and well and currently residing in São Paulo, Brazil. Bet you didn't see that coming! Neither did I, but it's pretty OK so far and good to finally escape from New Jersey. Why Brazil? I married a Brazilian woman. Simple as that. Life is good. :)

To stay in touch, join me on Facebook and/or Instagram if you haven't already.
YEAH, THIS SITE SUCKS ON MOBILE. DEAL WITH IT.
Currently putting the finishing touches on a new acoustic work space. I brought tons of audio files, cassette dubs and vintage MASTERMIND live video with me to review that may yield some cool stuff, plus tons of new and not-so-new unreleased music in various stages of completion. Guitar chops are up and I'm out meeting new people to play with. Until it really comes together, a few odd gigs and concentrating on studio projects. That's it for now. Check back later this year for possibly some really interesting news. Thanks for checking up! -Bb



ps: the toilets really do flush backwards here (and the Moon is upside down!).

pss: I've updated the Photo Gallery some. Go have a look.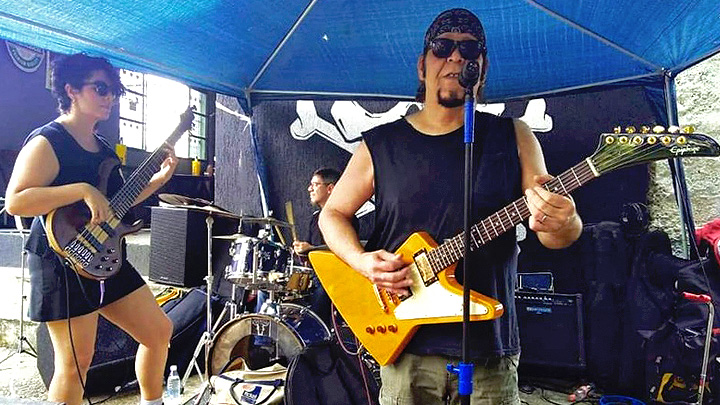 Kicking it live at Piratas Bar, São Paulo, Brazil. February 2019
---
Jan. 1st, 2018 [ home ]
Happy New Year!! Feliz ano novo! Best wishes for 2018!
Lots of changes in 2017, but the plan now is to get more music going in 2018. Cheers!!


---
July 17, 2017 [ home ]



Some new music for solo laptop shows. I hope you like it :)



www.youtube.com/watch?v=gdBLWNEUEm8


---
Jan. 30, 2017 [ home ]

The Mastermind 50% off catalog sale on bandcamp ends soon!

Performing a solo show of blues guitar in São Paulo, Brazil, February 4th, 2017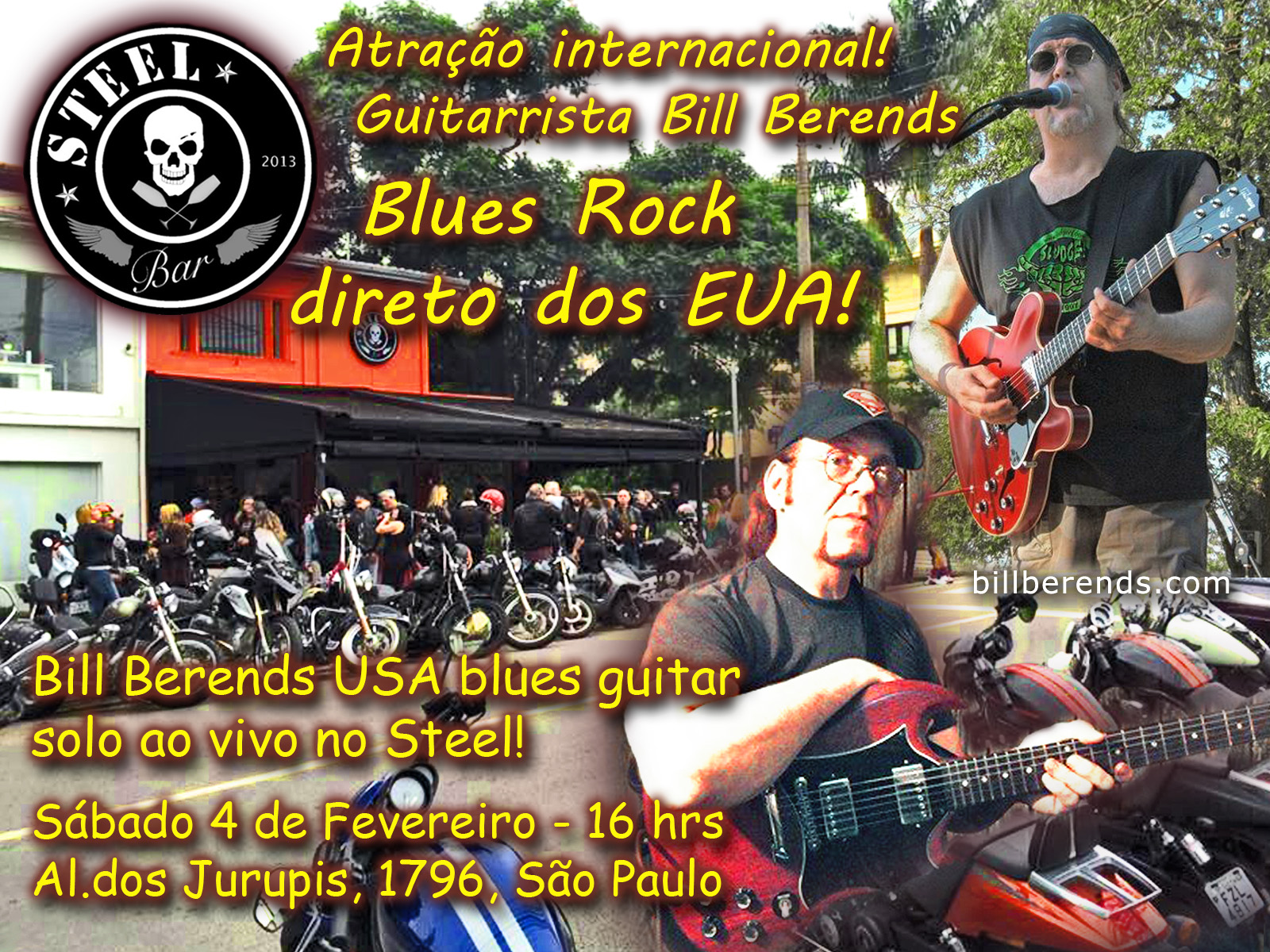 The web site needs updating for the mobile world. Coming soon(er or later).


---
Jan. 12, 2017 [ home ]

To kick off the New Year the entire Mastermind discography is now on sale on bandcamp at a special 50% discount when you purchase the entire catalog. Full fidelity audio, or choose from several audio formats from FLAC to mp3, it's quite a bargain for $37 USD! Simply click on any album and bundle purchase info is below the album price.
50% off sale ~ Mastermind discography on bandcamp!!
Take advantage of this deal now as it won't last forever!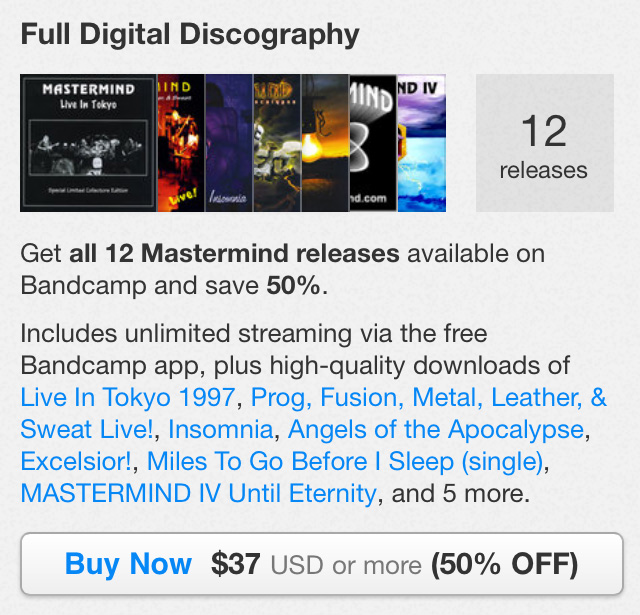 Benvalia Music is off to a good start. Both Benificial to the artists and of Value to the discerning listener, I hope you've taken a moment to visit and enjoyed the free holiday download which remain online through January, in case you haven't heard it yet. Please like Benvalia Music on Facebook while your at it. Thanks! :) More titles coming soon.


That's it for now! Here's to a wonderful 2017!


---
Dec. 11, 2016 [ home ]

Happy holidays, everyone!!

Some music news to wrap up 2016. First off, for MASTERMIND fans, the entire Mastermind back catalog is now finally available on bandcamp as full fidelity CD quality downloads, including the 2010 Insomnia album: mastermind.bandcamp.com

I've launched a new online music shop called BENVALIA MUSIC, initially envisioned as a place to present my new music and solo recordings made outside of MASTERMIND, the concept grew to encompass other artists I've worked with over the years whom I feel deserve a wider audience. Both BENeficial to the artist & of VALue to the listener, Benvalia Music will present interesting and compelling music made outside of the mainstream. Eventually my new music will be on there as well. :)

Benvalia Music showcases works performed, produced, and/or curated by resident musician/producer Bill Berends. Home to a careful selection of styles, bands and artists, it was set up to bring quality music to fans world-wide.

benvalia.bandcamp.com
facebook.com/BenvaliaMusic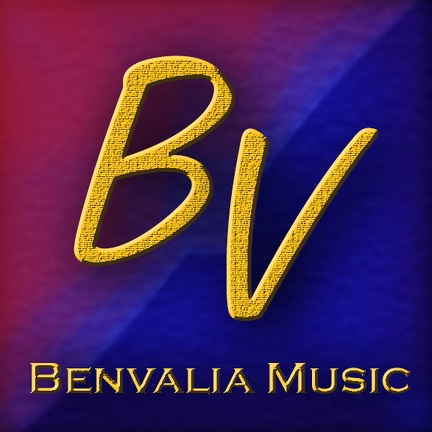 This is just the begininng with more releases planned including TANK (70's-80's Berends bros), a variety of solo works recorded from the 80's thru today, more recordings from brother David's band The Name, and other artists now under consideration.

Benvalia will be featured on Friday Night Progressive (FNP) this Friday Dec.16th at 9PM EDT. Tune in!

Thanks for stopping by. Here's wishing you a joyous holiday season and a great New Year!!

Your friend in music, see you in 2017 !!! Bring it on!!

Bill Berends


---
Dec. 8, 2016 [ home ]

Saddened by the news of Greg Lake passing. RIP Greg, and thank you for all you gave us.


---
Aug. 15, 2016 [ home ]

Recently uploaded a video of the full Brainstorm suite live from Mastermind's 1997 US tour.





Mastermind live at the Odeon, Cleveland, Ohio

Bill Berends: guitar, MIDI-guitar, vocal
Rich Berends: drums & percussion
Phil Antolino: bass, MIDI-pedals

www.youtube.com/watch?v=MrEH3jR2b_U


---
May 20th, 2016 [ home ]

I will be on the NewEARS Prog Show (New England Art Rock Society) on WEFM radio Sat. May 21st at 9pm EDT for some interview action and airing some brand new music! And something quite old that you've probably never heard before unless you've been hanging with me for a long, long time. Check the link for live stream. Don't miss it!


---
April 25th, 2016 [ home ]
Check it out. Coming soon: The TANK Archives and more.


---
March 15, 2016 [ home ]

Keith Noel Emerson (2 November 1944 – 10 March 2016)

Deeply saddened by the tragic news of Keith Emerson passing. An influence and inspiration, his music will be remembered.

"He was a man. Take him for all in all.
I shall not look upon his like again."

RIP Keith.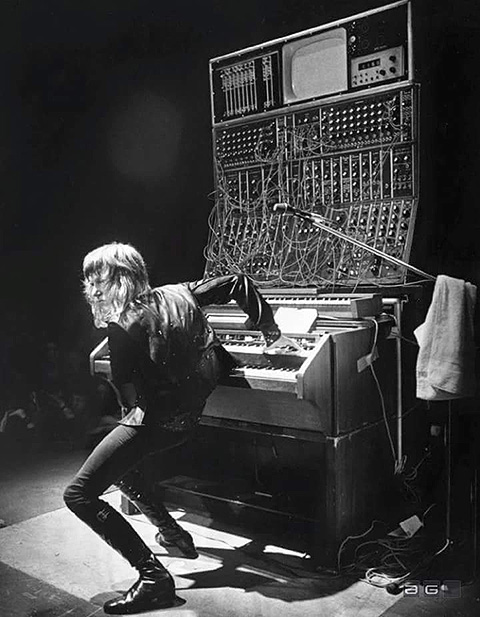 ---
Jan. 2nd, 2016 [ home ]

Happy New Year! Thanks for stopping by. I hope your year is off to a great start. I have a bunch of new music just about ready to go - including some modern remixes of older Mastermind material - so join the mailing list and be the first to get it. In the post-CD world I'm not quite sure how to release music into the world anymore, so I will start by letting it out exclusively to loyal folks on the mailing list and take it from there. My horoscope says wait until after January's Mercury retrograde to introduce anything new, so that sounds like a plan. I may as well have everything going for me that I can. Hey, it worked for Ronald Reagan. lol... anyway, I'm kind of shooting for late February/early March. Maybe a teaser before then. I'm such a ridiculous perfectionist I'm sure I'll be tweaking mixes up till the last second, but the music is good! I am quite pleased with it and look forward to getting it out there.

Thanks for your continued interest and support through the years. OK... 2016. Bring it on!


---
Dec. 24, 2015 [ home ]

Merry Christmas and best holiday wishes to you. Be excellent to each other.

See you in 2016.


---
Nov. 11, 2015 [ home ]

Hey folks! Been a while since I've posted any News because I'm a slacker. Seriously, I've just been busy with stuff and haven't felt like dealing with the interwebs and writing HTML (I do all this html stuff by hand in a text editor... ugh), but here goes...

WHAT I DID THIS SUMMER (Spring, Fall, 2015) by Bill Berends

Several cool projects in the studio this year, working both as a recording engineer and a guitar player. Way back in May/June I had Jason Gianni (drummer on In My Dreams...) in the studio, recording his drums for a new symphonic-metal project just released in November by Napalm Records called PHANTASMA, featuring Charlotte Wessels (DELAIN), Georg Neuhauser (SERENITY), and reknowned euro-metal producer Oliver Philipps (EVERON) with whom I worked closely (considering he is in Germany ;)) tho' not as closely as with Jason who was actually here in my studio. Anyway, the finished product sounds fantastic and Jason's drums are killer, as always. Check out Phantasma on youtube and if you need drum recording for YOUR project, get in touch. :)

Moving on to summer, I played some guitar for Alex Kulak (AZAZELLO) in Russia, did guitar and vocals (!) for Akiko Takahashi of ARS NOVA (Tokyo) for her new AKIKO'S COSMO SPACE album, then next contributed a nice long solo to M.DESTINY (of FNP)'s new digital release. Check that out on bandcamp as a free download. I'll post more music links as they become available. I've also been working steadily throughout the year on electro-pop artist C.F.Colletti's second STARTER PLANET album. All-in-all, a pretty interesting and varied bunch of music. My neighbors must wonder WTF?! with Russian language, Japanese, and Akiko's strange "space language" blasting all summer. Not to mention my own stuff pounding away, which I'll get to in a minute, but first...

AKIKO'S COSMO SPACE Julähsica To This Wonderful Day! album is NOW ON SALE in my web store. Released in Oct. 2015 by Musea records (France), it is currently without U.S. distribution. I'm sure long time MASTERMIND fans recall our gigs and tours with ARS NOVA, so I'm helping her out by selling a few of them here. North American sales ONLY. Purchase your copy now!





OK, so about my own music which I know some folks are wondering about. I've been steadily working away, building a catalog of new material, and had hoped to release something new by now. But the muse takes its own path and it seems to have wandered off into new territory which required much thought, work, experimentation, and learning. I am veering off into the world of modern electronic music, working with new instruments, techniques, and software, and didn't want to rush something out just to have a new release. So hang in there a while longer, it will be worth the wait. I promise. And now for something completely different.... ;-)

ps: summer went by way too fucking fast. It always does. Winter is coming and I'm cold. I hate being cold. Fuck.


---
Jan. 7, 2015 [ home ]

I hope your 2015 is off to a good start. I've done a little house cleaning on the ol' web site here. Pruning and updating dead links on the music page because all the stupid embedded links from other sites keep changing all the time. Also added a cdbaby player to the In My Dreams I Can Fly page where you can now LISTEN TO THE ENTIRE ALBUM IN FULL. Cool eh?

Still stuck in New Jersey for the time being, but winter isn't too too bad... so far. Not going to NAMM this year. As enjoyable as it was to see all my friends there and make some new ones as well, I can't justifiy the expense right now for what is essentially the equivalent of spending three days in Guitar Center. I need too many other things to jump start my life. 2014 was the first calendar year in 30 some years where I didn't play one single live show - which is fine - I needed a break to rethink where things were going which was nowhere. New music is coming along and I hope to get something going in the Spring. Wish me luck!


---
Jan. 1, 2015 [ home ]

Happy New Year! Let's see what we can get going this year. Seeya, 2014... you kinda sucked. Sorry, but it's true.


---
Dec. 25, 2014 [ home ]

Season's Greetings and Merry Christmas
youtube.com/watch?v=it0eiZAeN7M
---
Dec. 12, 2014 [ home ]

In My Dreams I Can Fly now streaming in full on CDBaby. Price reduced for the holidays. Give the gift that keep on giving!


---
Dec. 11, 2014 [ home ]



FNP Indeprog Award 2014 - Bill Berends interview & award show: streaming archive (FNP #173) [link updated]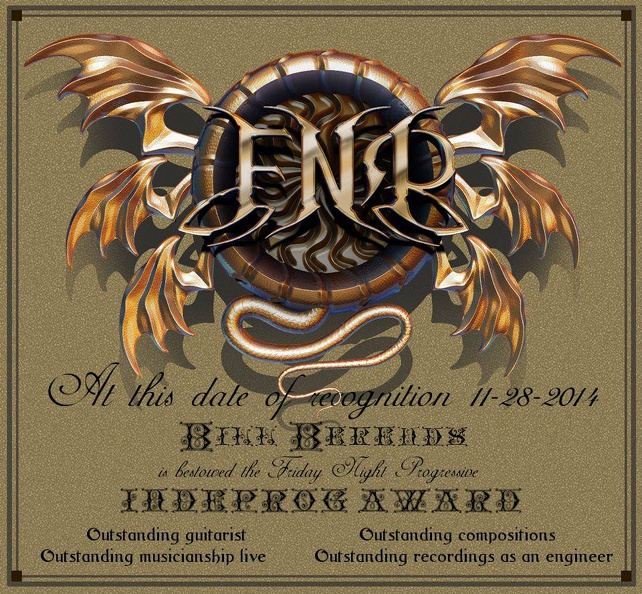 ---
Nov. 26, 2014 [ home ]

On Friday Nov. 28th Friday Night Progressive honors Mastermind guitarist Bill Berends with the "Indeprog Award" for outstanding artistry in recognition of his musical career and commemorating the 20th Anniversary of MASTERMIND III: Tragic Symphony. Featuring a candid interview with Bill, commentary, music & chat. Tune in live at 9pm EST (NYC time). Thanks to FNP for their ongoing interest and support!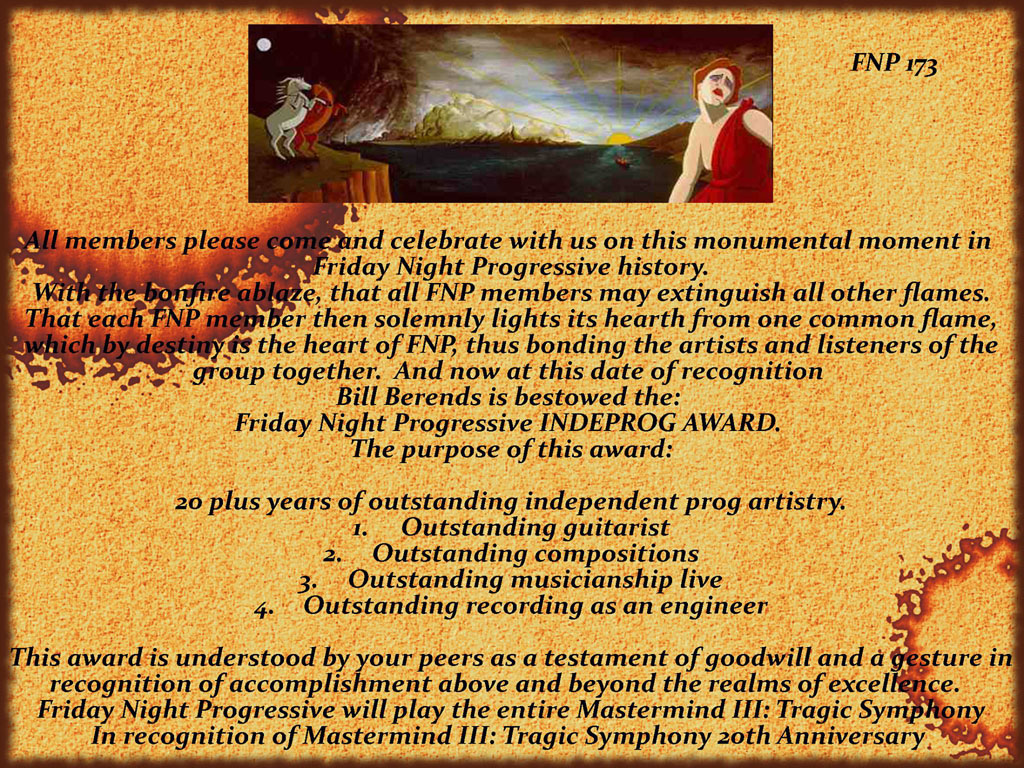 Listen here (archive) Aired Nov. 28, 2014 @ 9pm EST (NYC time) | Chat Room | Facebook FNP group
---
Oct. 8, 2014 [ home ]

The days are noticeably shorter, the nights are colder. Winter is coming. Nooooooo!!! Summer was WAY too short!! However, now it is cooler and darker I am again working diligently on the music I began last Spring. Summer was mostly household maintenance, roof repair, plumbing problems, auto repairs, and other real-life crap demanding attention. Tedious and tiring, but better in summer than in winter. This is not to say I didn't make any musical progress at all, in fact quite the opposite. After living with my new compositions for a while I re-worked some things to get closer to my vision. It's taking shape. When a touch of writer's block hit (it happens) I did some radical remixing of older material, plus some covers as well, just to keep the juices flowing. Much time was devoted to learning new music software and how it interfaces with hardware. So, although I don't have anything to show for it yet, I covered a lot of ground and will have some new music out there before the end of the year, that's a promise. I do miss playing out live, but that will take time to get together. I feel like I am starting over from scratch in some ways which is both exciting and frustrating at the same time. I want it to happen NOW!

Meanwhile, I've booked myself on NASA's Orion mission to Mars! The first test flight is December 4th, 2014! Well, my name is going anyway. Getting ready to earn myself 60,000 space flyer miles! Sounds like an adventure. Seriously tho', come back in a few weeks and see how things are shaping up or sign up for the mailing list to get the latest music news directly in your inbox. Thanks for checking in!



ps: NASA totally messed this up, put it in someone else's name, reusing my info. Maybe we should leave it to SpaceX.
---
May 19, 2014 [ home ]


Spring has sprung, finally, sort of - still pretty darn chilly - but at least the damn winter is over. The last live show I played was Thanksgiving 2013 by which time I knew that I really needed a break from the cover band gigs. So, although I haven't been out performing, I have been busy all winter (and now spring) composing new music and have to say it feels really good. I've written a lot of new material I am quite pleased with and have been fleshing it out in the computer as you can see in the photo there, behind me.

Though I do miss being out and playing for people, I don't miss the bar scene at all. I never set out in life to be a cover musician and I don't want to end up as just another old guy playing old music for old people. I aspire to much more than that and still believe I have it in me. Though it was enjoyable to revisit my roots as a guitarist, and I think it was good for me, it went on for far too long and just got to be soul crushing. Time to retreat, rethink, reinvent.

What this means is The Berends Brothers Band as it was, is no more. Can't do that anymore. If we reappear under that moniker again it will be something quite different. Also, as much as I got a kick out of playing Mahavishnu Orchestra stuff with Calvin Weston's Treasures of the Spirit band, I won't be doing that anymore either. It was fun for a while, but it's time to move on. Will this mean the return of Mastermind? Doubtful, but anything is possible.

I'd like to thank everyone that supports my work with their purchase of In My Dreams I Can Fly. I feel like that was the culmination of my pure guitar explorations and now I am delving back into synthesizers and other electronic weirdness. So stay tuned, join the mailing list to be first to know when I release something new. Sometime this year for sure. I'm not sure what it will be called or how I will release it. Perhaps by putting it on Soundcloud sort of anonymously and see what happens. If reactions are positive I may do another kickstarter. Not sure yet. Anyway... I just wanted to say I'm not dead yet! I haven't retired from making music and feel genuinely excited and enthusiastic about what I'm doing for the first time in a quite a long time. And now for something completely different. :)


---
March 14, 2014 [ home ]

A recent in-depth, guitar-centric interview talking about IMDICF, Kickstarter, and more on retrorockguitar.com



---
Feb. 27, 2014 [ home ]

After a week in California for NAMM, coming back to New Jersey seemed very counterintuitive. WTF am I doing here? Worst February in recent memory. Seems appropriate to feature The Longest Winter from the IMDICF album... I vow this will be my last winter in NJ.

One bright spot though - a nice new review of In My Dreams I Can Fly up on the Exposé Music Newsletter site. Check it out.





---
Jan. 9th, 2014 [ home ]

2014 ~ I hope everyone's new year is off to a good start!

A nice new review of In My Dreams I Can Fly is now up on Music Street Journal... check it out! And a new video for Paper Planes....





In other news: The Berends Brothers Band is taking a break from live performance for a while to concentrate on new original music. If cabin fever or frost bite doesn't get me first, I expect to be back out live in 2014 in one form or another. Some new recorded music should come before that.. check back often to see what's up. Thanks for visiting!


---
Go to earlier updates / current news...

All content ©2014-2019 Bill Berends unless otherwise noted.