Previous Updates Dec. 24, 2013 [ home ]



Merry Christmas and Happy Holidays to all! Wishing you peace, love, and joy this holiday season. See you in 2014!!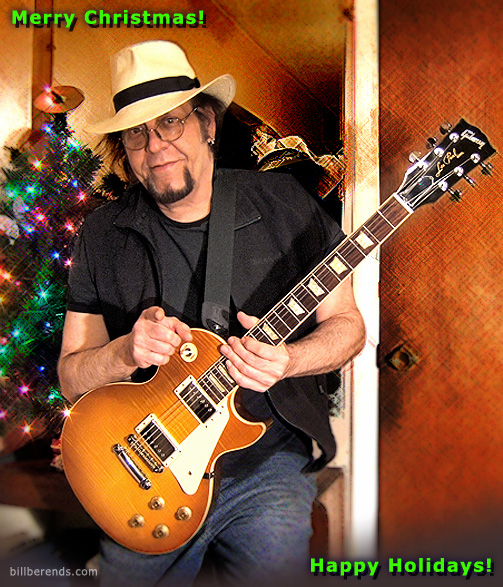 ---
October 21, 2013 [ home ]

The Berends Brothers Band is playing a cool theater show at The Rotunda at U. of Penn in Philadelphia, this Thursday, Oct. 24th, 2013. Check out the event listing, download the press release PDF, and visit the schedule page for map links and more info. All ages, FREE admission, 8pm-10pm. It's been a while since we've played on a bigger stage, so I am looking forward to it... should be a great show!






Also, for the prog rock fans, visit the Mastermind blog and check out the new Nimbit Webstore. The Angels of the Apocalypse album is now up on youtube - in its entirety - for everyone's enjoyment. It was a good album when it came out, it's still a good album, so go check it out if you haven't already, or listen anywhere, anytime on youtube. This album hasn't been officially available online for some time now, so if you enjoy it, now you can purchase a digital copy if you like. That would be way cool. Thanks!

Now the weather is getting colder it's time to get back in the studio cave and record some new music. Summer was far too short to suit me! But this most likely means fewer lives shows - one or two more before the end of the year (unless something else comes along which is possible, we'll see) - so come on out now before it's freezing cold and have some fun, say hello. I hope to see you there!


---
September 11, 2013 [ home ]

9/11/01... I will never forget. I recently uploaded a few tracks off the Mastermind 'Insomnia' album to the Mastermind youtube channel (courtesy of Lion Music) for everyone to enjoy and share. While I was thinking about it I wrote an entry for the Mastermind blog relating how the events of that fateful day twelve years ago influenced the music. Some things Mastermind fans may not be aware of, shedding some light on the darker moments on the album and the artwork. It hardly seems like twelve years have gone by [ more ]...


---
Aug 18, 2013 [ home ]

Upcoming gigs [ click here for info ]


---
June 16, 2013 [ home ]

A new guitarist oriented interview with yours truly in the QRD ezine issue #63. Check it out here.


---
June 5, 2013 [ home ]

Music video for the title track off In My Dreams I Can Fly. Just goofing around for the camera on my part, but some good video footage of drummer Jason Gianni playing live in the studio. Please share using this link: http://youtu.be/GtVok4JG4CY





This is the actual drum track on the album as it was being recorded and me goffing around with the Firebird V that I played on this track (and several others). Please visit youtube to comment and give us some thumbs up action :) Thanks!


---
April 22, 2013 [ home ]

In My Dreams I Can Fly charted in the April issue of JAZZWISE magazine's radio charts (UK). Sweet!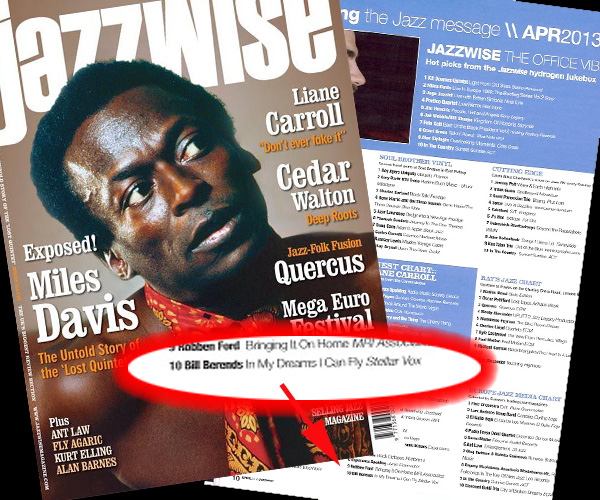 (I love that Miles Davis is on the cover. Me & Miles... how cool is that? Very!! ;))


---
April 2nd, 2013 [ home ]

Another nice album review at the aptly named loudguitars.com web site! "splendid" Rating: 4/5


---
March 18, 2013 [ home ]

New blog entry. I hope to be a bit more diligent about it in the future! Also, Dr. Music's review of the week has been archived.


---
March 12th, 2013 [ home ]

R.I.P. Alvin Lee, December 12, 1944 - March 06, 2013
Fellow Sagittarius and one of my favorite guitarists of all time. Thank you for all the great music and inspiration.


---
March 6th, 2013 [ home ]

In My Dreams I Can Fly is the featured review of the week on Dr. Music's Weekly Checkup (Chicago, USA)... check it out!

"Anyone that has ever heard Berends play guitar doesnít need to hear me rave on and on about how talented this guy is. Letís just say it once right now, this guy is as good as they get." -- Dr. Music

Check out some other great reviews on Dangerdog Music and Virtuosity One. Get your copy today from CD Baby


---
Feb. 22, 2013 [ home ]

I've put up a page on the Play Crossroads guitar festival contest with a track from my new CD In My Dreams I Can Fly and a previously unreleased Mastermind track from the Lion Music Tsunami benefit. Go check it out. It's basically just a popularity contest, but I figure it's some exposure for the new album. Thanks! (Update: the contest is over but you can still play the exclusive content. Listen here.)


---
Feb. 3rd, 2013 [ home ]

How cool is this? Very nice!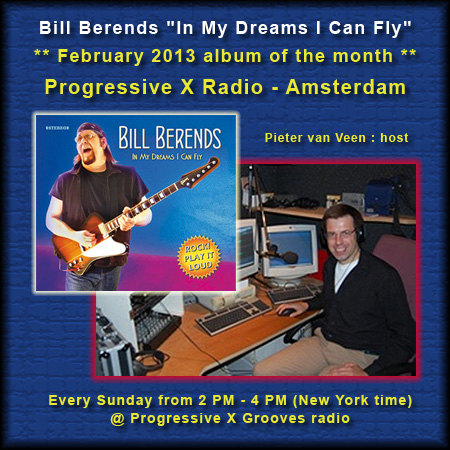 Progressive X Grooves radio, Amsterdam. Press Release:

Bill Berends - In My Dreams I Can Fly - is **album of the month February 2013** at Prog-X-Radio!
Listen / webcam every sunday from 2PM-4PM (NY time) @ Progressive X Grooves radio: here
Chatroom every Sunday 2PM-4PM (NY time) @ Progressive X Grooves radio: here
The radio show is in Amsterdam (Europe) and in Dutch language: THE MUSIC RULES!

Get your copy of In My Dreams I Can Fly here


---
Jan. 2nd, 2013 [ home ]

Happy New Year!! I have a new album out and gigs coming... 2013 looks good so far!! Best wishes to you all!


---
Dec. 25, 2012 [ home ]



Merry Christmas and Happy Holidays everyone! WIshing you peace, love, and a joyful holiday. Get ready to rock 2013!!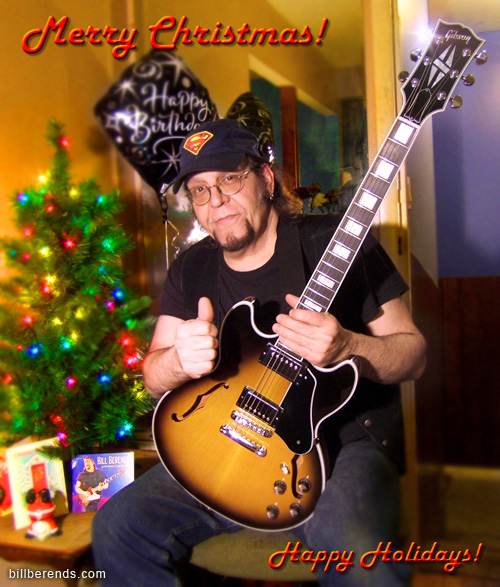 ---
Dec. 22, 2012 [ home ]

Merry Christmas & Happy Holidays!! My new album In My Dreams I Can Fly was officially released December 18th, 2012 and is now permeating across the web. It's on CD Baby and Amazon.com and should appear on iTunes any day now. Ideally you'll purchase it here, directly, but whatever you're comfortable with is fine. Videos and sample tracks are coming, but primarily I wanted to get the album released before the end of the year and that got done. Stage one: success!!.

The release comes two weeks before the end of year, so it's going to come alive in 2013. Info, photos, videos, stories, blogs, live shows, strippers, you name it.. all KINDS of stuff will be coming, so keep checking back to see what's up. If you aren't sold on it yet, you will be!

For now I'm taking some time to enjoy the holidays. Relax, play guitars, and get some other stuff done. I'll get cracking again after Christmas. Thanks again to everyone who helped make it possible. Enjoy the holidays, stay safe, and be excellent to each another!! And... listen to my new record. A lot. It's good!! Take it with you on trips and have a rocking Christmas and a Happy New Year!!


---
Dec. 12, 2012 (12.12.12.) [ home ]

Alright!! As of today, all Kickstarter pledges and pre-order CD's have been shipped out! Woohoo!! There's a new web page for the album online and I'm getting ready for my birthday and record release party on December 18th. The CD is here and on its way out into the world now, so 2012 is wrapping up very nicely!! Thanks for your support! Public sales will begin shortly, check back soon! Also be sure to check in and join the Facebook page for the album release as I tend to post more immediate minutia there. Hope to see you!


---
November 12th, 2012 [ home ]

The Kickstarter campaign for my new solo album was a great success and the CD will be a reality now THANKS to everyone who kicked in to make it happen!!! You guys ROCK!!! However, it seems quite a few people missed the deadline or had problems dealing with Amazon. Some folks were without power after the hurricane and missed out. So, by popular demand, while I wait for Amazon to release the Kickstarter funds, I am extending pre-order pledges for two more weeks via PayPal (or by personal check in the USA). If you missed out previously, this is your chance to pre-order or make a pledge of support to get the music early and help keep more coming.

Pre-orders and pledges extended thru November 25th. Order now!

Why would you pledge for more than just the cost of a CD, you may ask? It really boils down to supporting artists that you like and hope to see continue making music. It's as simple as that. The new century has been especially hard on recording artists like myself with the internet making most music available free, basically. Even purchasing a CD or download is an act of goodwill these days and I am very grateful for the folks who have done so! But an act of patronage really goes a long way towards making more music happen; better quality production tools, more time devoted to the art, freedom from commercial pressures and deals that have an unfortunate tendency to shortchange artists. So anything you can contribute above and beyond the basic purchase price is greatly appreciated and will be plowed right back into bringing you the highest quality products possible. I hope you will consider it at least. Thank you.

After November 25th pre-ordering will cease and I will be concentrating totally on fulfilling everyone's orders and pledge rewards. Kickstarter backers and patron level donors will take priority of course, but I will be filling ALL orders as quickly as possible. I really WANT you to be enjoying the music!! So if all goes according to plan, CD's will ship in the last week of November or first week of December. Downloads will be released shortly before CD's are shipped. Also, please sign up to the new mailing list to receive updates on new music, Mastermind, upcoming gigs, special offers and CD shipping info. You won't be spammed constantly, I promise!

Once, again thank you all for your $upport... I couldn't do it without you!


---
October 25th, 2012 [ home ]

Hooray!! The Kickstarter campaign to get my new album funded and the CD released has reached it's goal!! So now this new album will definitely be happening. Pre-orders and pledges are still being accepted thru Nov. 5th so I hope YOU will go and order your copy today, perhaps even pitch in at a patron level! I am hoping to reach the stretch goal because every dollar that comes in will go straight into making more music happen. Please consider kicking in before the deadline so you can get the music first! And because it is good PR for the album... nothing succeeds like success and kickstarters that go over their goal get more attention. To those of you who have all ready kicked in THANK YOU VERY MUCH for helping bring this album to life!!

Also, please sign up to the new and improved email list! Even if you were signed up before, moving things over to a new host caused huge problems and the list wasn't functioning, so this should straighten it out. Sign up to win prizes and exclusive stuff! Thank you.


---
October 6th, 2012 [ home ]

The BIG NEWS is: I have FINISHED my album of rock guitar instrumentals! Visit my Kickstarter to pre-order now!


---
June 17, 2012 [ home ]

hahaha... did I say check back in April? Sorry! I've been kind of busy, plus enjoying the Spring weather a bit. Basically, I'm holed up in the studio finishing mixes for my forthcoming guitar instrumental 'solo' album. Almost done! I will get on some Mastermind stuff soon though, I haven't forgotten about it. Everything seems to take longer than I want these days. At the moment there are no live shows scheduled, so that should afford me some time to get ahead on things. Besides the solo album, there is another Mastermind album in the works and some other interesting stuff as well, including some electronic music and a symphonic type project. More on that later.

One bit of interesting news is my buddy Jason Gianni of the Drummer's Collective (NYC) is the primary drummer on my new album. An awesome drummer, we met many moons ago when his then-band was recording demos in my studio. Not too long ago I happened to comment on a Youtube video about how good the drummer was, not recognizing Jason, and he writes "Dude, it's me!" haha.. cool! Perfect timing. Since my bro' is incredibly busy these days, and I wanted a different kind of sound anyway, Jason was the ideal candidate at the perfect time. It was almost like fate that it happened the way it did. Amazing how that worked out.

Anyway, the news is... since recording my tracks, Jason has been chosen to drum for ex-Spocks Beard frontman Neal Morse's band. Very cool! Neal's regular drummer is none other than Mike Portnoy (ex-Dream Theater), so you know Jay is a serious talent to fill Portnoy's chair. I am super happy with Jason's work - very crisp and contemporary sounding - Neal certainly made the right choice... just remember tho'... I found him first! ;) I really can't wait for everyone to hear this stuff. Soon! So I better get back to work. Check back now and again and I hope to have some concrete info about album release plans very soon. Thanks for stopping by!


---
March 28, 2012 [ home ]


Hey folks, I must apologize, I've been terrible at updating things. I just posted a new blog on blogspot which I hope you will go read. There are quite a few things going on I'd like to share with everyone, so stop back later in April and I'll post more info about new music, some interesting collaborations, and maybe even update these sites if I'm feeling ambitious. Also, 2012 marks the 25th Anniversary of MASTERMIND so we hope to do something special for that. I can hardly believe it's been 25 years (!) since we first released Mastermind Volume One on cassette! So what are you waiting for? Go read my new blogspot entry (with video) and stop back later in April for more news. Thanks!! I will try to get better at keeping up, I promise! Also, a couple upcoming shows so I hope to see you there!


---
June 27, 2011 [ home ]

Wow, it's been a while! Guess it's time for a bi-yearly update. OK first up, we recorded a brand spankin' new Mastermind instrumental track for Lion Music's Japanese Earthquake & Tsunami benefit album which I wrote about over on the Mastermind blog so please stop by and have a look. Below that there's a new video I put together for an instrumental we did years ago for Cyclops Records... it still sounds pretty cool! (here's a direct link for you lazy people) So there you have it, a brand new Mastermind track in 2011 and more to come, just hang in there. And please pick up a copy of the album.. it's a good cause with all money going to the Japanese Red Cross.

Next up, I've finally gotten 'round to putting up a web page for The Berends Bros Band at BerendsBrosBand.com (clever eh?). For those who don't know, this is our local bluesy rock band just to get out of the house and play, make a few bucks and have some fun. For those who only know us from BBB, Mastermind is the more serious thing we've done over the years. Yes it is possible to do more than one thing! Anyway, there are a slew of recent BBB gig videos linked on new site, so stop over, grab a beer and pretend you are there.

Finally, in closing we'll take a trip back in time 30 years with some old video from my band TANK ...





(another video here if you're interested. If you enjoy them let me know and maybe I'll post more)


All my old Jersey friends remember this I'm sure. This is from 30 years ago to the day practically; June 26, 1981 with me and my bro' Rich, Kip Leming, and Rich Harter. This format basically evolved into Mastermind a few years later. For those who don't know, I was using the name TANK since 1973 until some jerks in the UK usurped our name and stole our logo to boot. Bastards! There were earlier incarnations under the TANK moniker that leaned more heavily towards the progressive side, and one day I'll go into some history about the lineups and so on, but not today. So thanks for stopping by, go check out some videos, and hopefully I'll have some groovy music news before another six months goes by. I've got a few things in the works. Happy summer, hope to see you at an upcoming gig!

ps: and hopefully you've picked up a copy of our 2010 Mastermind release: Insomnia !!


---
Jan. 11, 2011 [ home ]

Starting off the new year with a variety of projects. First off, I've been invited to play with G. Calvin Weston's Treasures of the Spirit band out of Philadelphia which is an adventure into the music of The Mahavishnu Orchestra. I wouldn't be so bold as to call it a tribute act, but more like good fun and a real challenge to boot. Rehearsals have begun and my first gig with them is January 28th in Philly. Check out my schedule page for links and details. I'll have more to say about this as time goes on, but so far it's pretty enjoyable.

The Berends Bros Band has gigs coming up starting in February, so I am happy to be playing more. Again, see the schedule for info. In the studio recently has been keyboard wiz Michael West whom prog heads may recall for his solo CD and "Black September" album, both of which I produced and engineered back in the 90's. We've begun work on a new full length album due later in 2011 and have put his back catalog up on Mindawn.com including a never released EP from 2005 so check it out.

And finally, I am pleased that the Mastermind "Insomnia" album was chosen for some "best of 2010" lists despite minimal promotion. Read more about that over on the Mastermind blog. Unfortunately it doesn't seem like we'll be getting a live band off the ground anytime soon, but that could change at anytime. I would like to see it happen if at all possible. Anyway, that's it for now, see you at a gig!


---
Dec. 31, 2010 [ home ]

As promised, on the last day of 2010 here I am finally getting this site together a little. Some of it is filler, but I will update things as time goes on. Stop back now and again and check it out. In the meanwhile just have a look around. I am looking forwad to being very busy in 2011... word on something that could be very cool is coming in just a few days! Goodbye 2010 and Happy New Year folks!!


---
Dec. 20, 2010 [ home ]

Here we are on the shortest day of the year. I miss the long summer days. I *will* update this site sooner or later, I promise! But at the moment, tweaking HTML sounds far less than appealing. Anyway, I just want to wish everyone a happy and safe holiday season! Here's a nice impressionistic video of a tune from the Insomnia album, I hope you enjoy it. More music is coming soon.




If you haven't picked up a copy of the Insomnia album, head on over to the Mastermind youtube channel and listen. Merry Christmas!


---
Oct. 21, 2010 [ home ]

Still working on updating the web page... soon. In the meanwhile I've uploaded a couple videos on youtube from the last Berends Bros pub gig for your enjoyment. More to come and some vintage Mastermind as well. Here ya go... http://www.youtube.com/billberends

And for those of you who still haven't picked up a copy of the Insomnia album, head on over to the Mastermind youtube channel for a listen. Maybe after a few spins maybe you'll decide you want a copy of your own. The holidays will be here soon too... it might make a nice gift ;)


---
Sept. 24, 2010 [ home ]

As promised I have been diligently working away on fixing up this site, but it will still be a little while before unveiling it to the public. Hey, it's only been a year! And I gotta tell you, the 'new' html 4.0 whatever is a pain in the ass. Anyway, I will spread the word when it's ready to go. Otherwise not much new. You did buy a copy of Insomnia, right? Stop back in a few weeks and see what's coming up. Thanks!

Dreamhost rocks BTW! If you are looking to host a website, use this link to sign up and I get referral credits. So will you! Check it out.


---
Aug. 4th, 2010 [ home ]

We're changing hosting services for "mastermindband.com" so there may be some loss of service while the new DNS proliferates across the interwebs. Please stand by, visit this site for updates, and "@mastermindband.com" email addresses may be down for a while too, so use the yahoo email above if you need to get in touch. If it says "Powered by Dreamhost" on the splash page, you are at the new host.


---
July 27, 2010 [ home ]

10 Questions with Bill Berends on Bill Knispel's Prog Blog gets into topics outside of recent Insomnia interviews. Check it out.


---
June 22, 2010 [ home ]

Summer is here and boy is it warm! I know, I know... I still haven't updated this site yet, but I will... eventually. For now check out some home movies on youtube and stop back later to see what's up. Oh, a couple of live gigs this summer too. Look here for dates. See you there!


---
April 11, 2010 [ home ]

There are a couple more Mastermind albums up on mastermind.bandcamp.com now for your listening pleasure. Also a new interview with yours truly on usaprogmusic.com that gets into the making of Insomnia and other related topics. I still haven't made this into a proper website yet, but I will, I promise. Stop back later and see what's up. We've been rehearsing Mastermind material so we hope to have some news about possible live shows soon. I hope everyone has purchased a copy of the new album from the Mastermind Store. Thanks!


---
March 23, 2010 [ home ]

New interview up on Ytsejam discussing the new Mastermind album, the music biz, etc. Check it out.


---
February 19, 2010 [ home ]

MASTERMIND "INSOMNIA" CD now shipping!!


---
February 15, 2010 [ home ]

The Mastermind Insomnia album is being released this week! We're now taking CD orders in the Mastermind Store so stop over and get a copy. So far the reviews are pretty positive for the most part which is nice. Here is a recent interview discussing the album and various other things, I hope you find it entertaining. Still haven't found the time to update this site.. soon! I hope. More music on the way.


---
December 18, 2009 [ home ]

Hey, today is my birthday! Yay me!! I have chosen this auspicious occasion to make a very big announcement... MASTERMIND has signed with LION MUSIC (Finland) to release the long awaited INSOMNIA album!! The album will be released on February 19th 2010. Featuring Tracy McShane (vocals), myself (guitars, synths, bass), my brother Rich (drums), and Jens Johansson (keyboards), I am really happy to finally see this album get released properly. You can read more about it and comment here: http://mastermindband.com/blog/?p=30

Happy birthday indeed! A wonderful way to start a new year. Now to get my butt in gear and make something of this site... there is more music in coming soon, just wait and see. :) But for now I think I'll just go play my guitar... way more fun! Happy holidays folks!


---
September 29, 2009 [ home ]

Okay, the early Mastermind albums Volume One and Volume Two 'Brainstorm' are now on the bandcamp site for your listening pleasure. This is the original lineup & intent of the band, a heavy prog-rock power trio. Lots of blazing guitar and guitar synthesizer throughout. I've covered a lot of ground musically since then, but these are still both good albums that not enough people have heard. Check them out.


---
September 26, 2009 [ home ]

Wow... I looked at the site logs and this month alone there has been over 1,800 hits to this page! So I guess it's time I put something here. Um... visit the links above! OK, new this month is I've put some early Mastermind albums up online where you can easily listen to them straight thru. Yes, this stuff is several years old, but it's as relevant today as it was then, so go have a listen at mastermind.bandcamp.com. If you like what you hear, tell a friend, spread the word. Thanks! Stay tuned, there's more to come.


---
Return to current news...

All content ©2009-2013 Bill Berends unless otherwise noted.